Fontitin Help
Fontitin v1.1 – Font and character viewer for Windows

Copyright 2015–2019 Aivosto Oy, Finland
www.aivosto.com

What is Fontitin?
Fontitin is a font and character viewer for Windows. Fontitin shows the characters of each font, and the characters that are missing. Fontitin is fully compatible with state-of-the art fonts and Unicode.
With Fontitin you can
Learn about fonts and characters
Find out which characters exist in a font
Find out which characters are missing in a font
Find out which fonts support the characters you need
Learn to use different Unicode characters
Locate a Unicode character that you know exists, but you don't know where
List and print characters
Print character tables and lists
List characters by Unicode block
List characters by script: Latin, Cyrillic, Greek, Arabic, Hebrew etc.
List characters by codepage: Windows, DOS, ISO, EBCDIC etc.
Tackle language issues
Find special letters and diacritics required by foreign languages
List fonts that fully support your language, including all special letters
Determine which languages a given font supports
Determine which letters are missing for proper language support
Compare fonts
Compare character coverage of 2 or 3 different fonts
Compare dingbats and symbols across fonts
Check technical font issues
Check font coverage by Unicode version
Check font glyph list coverage: Adobe, Windows, Multilingual European Subset
Verify fonts against technical standards and glyph lists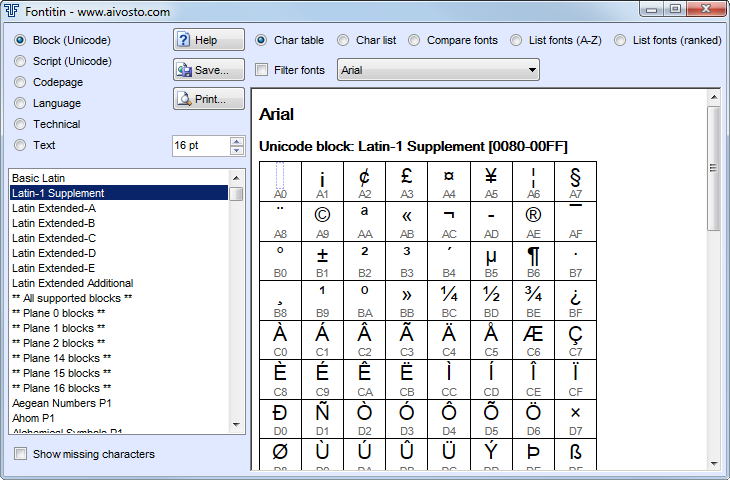 Fontitin v1 Help
URN:NBN:fi-fe201501011005