License certificate on paper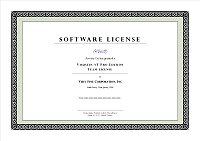 An optional paper license certificate is available for Aivosto software.
By default, you receive your software license via email. An additional hard-copy license certificate may be ordered.
A paper license includes a certificate with your name, installation instructions and license terms. The certificate is now available for all software products ever released by Aivosto, regardless of license type or age. The document certifies your license and displays your registered name in our records, as well as reinstallation instructions and keywords. The certificate comes with no CD or DVD, but it includes a personal greeting from the president of Aivosto Oy. Keep the certificate in your records as a backup.