History of Aivosto
Aivosto Oy provides software development tools since 1997. This is the history of Aivosto.
What is Aivosto?
Established in 1997, Aivosto Oy is an innovative producer of software development tools. Aivosto specializes in utilities for professional software developers. Our products focus on software quality, optimization, documentation and productivity. With Aivosto tools you improve your programs while saving cost and effort. From the very beginning, Aivosto has produced programming tools and distributed them online.
Timeline
1994
Start of development.
1995
First programs released in VBShop, one of the first software webstores.
1997
Aivosto Oy incorporated in Helsinki, Finland. VBShop moves to a new address, www.aivosto.com.
First products include Project Analyzer, a code analyzer for Visual Basic.
2000
Introduction of VB Watch, a unique run-time application analyzer.
2002
Introduction of VB.NET code analysis.
2003
Introduction of Visustin, the first automated flow chart generator.
Supporting new languages in addition to Visual Basic.
Website rebranded as Aivosto, name VBShop outdated.
2004
Introduction of VBA code analysis.
2007
Aivosto goes ecological, starts running on wind power.
2010
Year of major product updates.
2015
Expansion to fonts: Introduction of Fontitin.
2016
Tools for 49 programming languages.
2018
Website redesigned.
2022
Aivosto turns 25 years.
Early history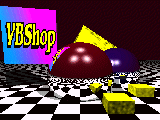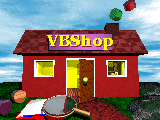 Aivosto started out in a small flat in a suburb of Helsinki, Finland. There was a box of Visual Basic and an old but slow PC. Not too much to begin with.
Project Analyzer, a code analysis tool for Visual Basic, saw the light of day in 1994 as a simple code documentation utility. In early 1995, Project Analyzer was put online as a shareware experiment. Initially, there was no website. Email, FTP and Usenet newgroups were used instead. That's how online shareware worked before the World Wide Web took on.
Our first website was VBShop (Virtual Business Shop), online in March 1995. VBShop was a pioneer in e-commerce, one of the first webstores for digital goods. The key idea of VBShop was that it accepted online payments, which were uncommon at that time. Online payments were initially possible with ecash, or Cyberbucks, an experimental digital currency created by Digicash. In Finland, VBShop was the first ever webstore with an online payment option.
Besides some other digital goods, VBShop offered a few utilities for Visual Basic in its "Visual Basic department". It soon turned out that the future was with the Visual Basic department, which was renamed as VBShop – The Visual Basic Shop. It offered four shareware products to Visual Basic developers. The products were simple, customers were scarce, but development went on.
Aivosto is born (1997)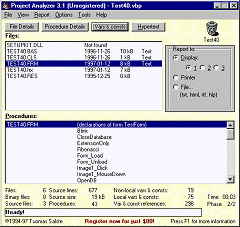 Aivosto Oy was incorporated in 1997. It was time. A change in law was making it expensive to establish new companies. Just 2 weeks before deadline, Aivosto Oy was founded. Bureaucracy rarely helps run a business, but this bureaucracy led to the right decision.
The new company needed a name. A short and distinctive one. It should work in several languages and as a domain name. So, how did we end up with Aivosto Oy? The word aivosto was found in a dictionary. Finnish-English dictionary, to be exact. Aivosto a less common word for the brains. Aivosto sounded unusual enough, yet reasonable for a software company. The Oy part simply means Ltd or Inc, so we are "The Brains Ltd.", should anyone wish to translate it.
Five years of Visual Basic tools (1997–2002)
Aivosto continued to run VBShop – The Visual Basic Shop. We worked with Visual Basic, our customers worked with Visual Basic, as did a half of the world back then. Visual Basic was hot!
Around 2000, a new focus was found in code quality and documentation tools. We now produced two analyzers: Project Analyzer and VB Watch, a new run-time analyzer. We also partnered with AxTools, another producer of VB tools.
The website was renamed as Aivosto's VBShop in 2000. We now offered a wide range of VB tools, mostly as download. There was also a CD-ROM option available, but CD-ROM soon became outdated in the early 2000s.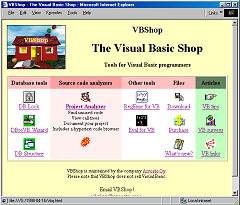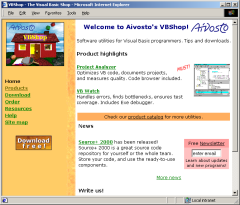 Approaching a broader audience (2003–)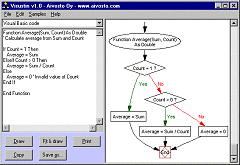 In 2003 Aivosto met a broader audience. Before that, programmers struggled to draw their flow charts manually. There was no tool that created good-looking flow charts from existing source code. Visustin filled the gap. Initially a VB-only tool, Visustin quickly improved by supporting more and more languages.
This website was renamed simply as Aivosto in 2003. The previous title, VBShop, was dropped altogether. Aivosto was no longer restricted to VB.
Aivosto now supports a broad range of programming languages. By 2016 Aivosto worked with a whopping 49 languages, not counting dialects and versions.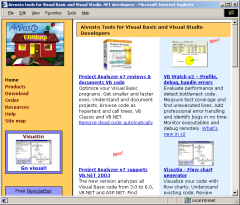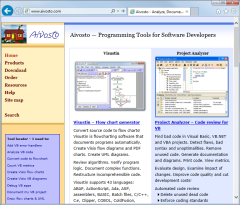 ---
Visual Basic—seriously?
Aivosto has a strong Visual Basic background. VB used to be a controversial technology. Some programmers—supporters of other languages—thought VB was a "toy", ill suited for serious jobs. "Real programmers" used something else.
Naturally, VB developers knew better. Our customers have used our tools to analyze and document massive VB applications consisting of millions of lines of code. That's real programming, for sure.
Shareware: Revolution that became mainstream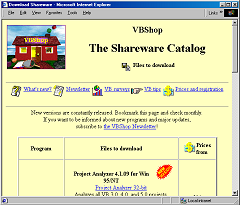 Aivosto started out as a shareware company. You could download our programs online and try them instantly, for free. This was new in the 1990s. Software normally came on CD, or even diskettes. Commercial programs were not generally available as free downloads. Shareware, on the contrary, came as a free download. A paid version existed for those who chose to buy it.
Shareware soon became abundant on the web. It was considered a cheap alternative to "real" commercial software. Not all shareware was of high quality, but you could try it before buying and see for yourself! What a revolution.
Eventually shareware became more or less the norm in commercial software. Shareware is now so usual one doesn't necessarily differentiate between shareware and other software. The term shareware is still in use, but less often than before.
More information
About Aivosto: Company information
What's new: Current and historical news