Fontitin: Font and character viewer. With a difference.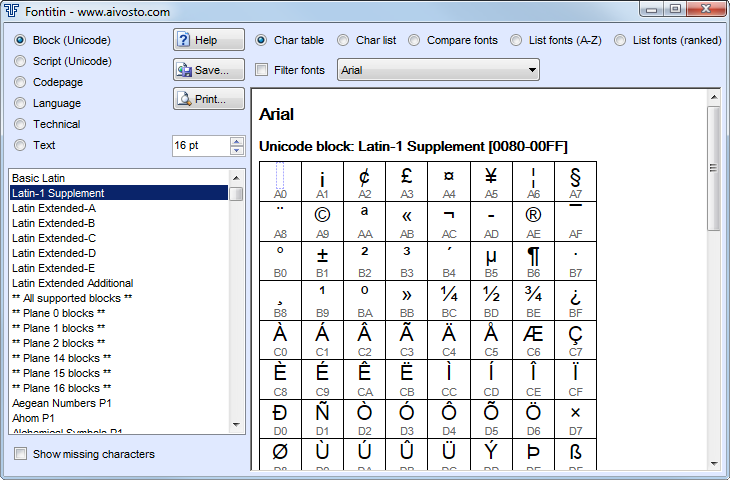 Fontitin is a font and character viewer for Windows. Explore fonts. Examine their character repertoire. Detect missing characters. Find new symbols on your PC. Pick the best font for your job. Look into character sets.
Dig deep into the fonts installed on your PC. View characters by Unicode block, script or codepage. Check which of your fonts support all the characters you need. Understand which characters your favorite font doesn't support. Compare fonts to find characters appearing in one font but not in the other. List fonts that support selected characters while leaving out those fonts that don't. Click a strange character to get more information on its use.
With Fontitin you can
Find out
which characters exist in a font, and which characters are missing
which fonts support the characters you need
Locate
the character you need but you don't know where it is
new symbols already installed on your PC
List
characters by script: Latin, Cyrillic, Greek, Arabic, Hebrew etc.
characters by Unicode block or codepage
all special letters required in a foreign language (á, ä, å, …)
all fonts supporting wanted letters, such as arrows, dingbats or diacritic letters of your language
Compare
character coverage of different fonts
a font to standard character sets
Detect
characters totally missing from your PC
missing letters by language
Learn
about Unicode and fonts
about the meaning of Chinese and Japanese characters
Print
character lists and tables
You need Fontitin if
you use fonts
you write text with symbols and special letters
you design web pages with special characters
you need to locate a working font for a piece of gibberish
you design fonts
Features include
View character tables by Unicode block or script.
View character tables for a codepage, including PC, EBCDIC, Mac and ISO codepages.
View special characters of more than 100 languages.
View characters sets of various standards and glyph lists.
View new characters in each new Unicode version.
View all characters of a font, including Private Use Area characters and rarely used Planes 1–16.
View character lists with full description of each character.
List fonts that support selected block, script, codepage, standard or wanted character.
List missing characters, ones that don't exist on your PC.
Compare 2 or 3 fonts with each other, differences highlighted.
Rank fonts by number of characters supported: total characters, wanted characters.
Try & buy
30-day
money back
guarantee
Download demo
Download and try Fontitin now. Free functional font and character viewer.
Order Fontitin
Each license covers one user and 2 computers.
System requirements:
Fontitin supports TrueType and OpenType fonts. It runs on Windows 7, 10 and later. Windows XP may also work.
More information
Updates: Minor updates are free within one major version number (1.xx → 1.yy).
Online Help
Fontitin samples and screenshots

Related articles: Character sets and codepages
User feedback
I do not use Fontitin often, but when I need it the program saves tremendous amounts of time.

My initial use was comparing the coverage of various fonts so I could make appropriate font selections to handle special characters without depending upon font mapping mechanisms.

Every once in a while I have to delve into the font mappings done by Windows and Java. Fontitin greatly simplifies the process of determining/verifying which font is supplying a given glyph.

My other major application has been comparing different versions of the same font. Later editions can drop as well as add glyphs. I have been able to edit temporary copies of various versions of ".ttf" font files (e.g., Lucida Console) to give them distinct names. This allows me to have them installed simultaneously. I can then use Fontitin to compare them.

The instructions are well written. They explain how to use the tool without drowning the user in yet another elementary description of the Unicode universe.
Roy Earle
I used it to define the character set of a font I am working on and ensure consistency between characters with elements in common. It did exactly what I needed it to do and I am glad I purchased it.
Brendan Bernicker
Spontaneous, authentic comment told us by real live Fontitin users.